Use our size guides to find your fit. Please note all sizing is approximate and garment measurements may vary slightly from the lists below.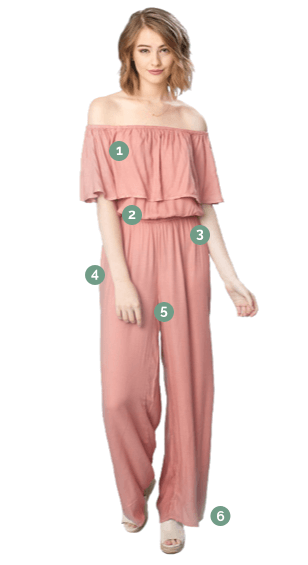 1
Bust
Measure under your arms at the fuller part of your bust. Keep tape level across your shoulder blades.
2
Waist
Measure around your natural waistline, keeping the tape comfortably loose.
3
Drop Waist
Measure around your body 1 1/2" below your natural waist.
4
Hips
Stand with your feet together and measure around the fullest part of your hips.
5
Inseam
Using a pair of your pants that fit well, measure from midline seam to bottom of leg.
6
Length
Measure the distance from your shoulder to the bottom hem.
Size Measurements (Inches)
| | | | | |
| --- | --- | --- | --- | --- |
| | Size | Bust | Waist | Hips |
| X-Small | 0 | 32-33 | 24.5-25.5 | 34.5-35.5 |
| Small | 2-4 | 34-35 | 26.5-27.5 | 36.5-37.5 |
| Medium | 6-8 | 36-37 | 28.5-29.5 | 38.5-39.5 |
| Large | 10-12 | 38-39 | 30.5-31.5 | 40.5-41.5 |
| X-Large | 14 | 40-41 | 32.5-33.5 | 42.5-43.5 |
| XX-Large | 16 | 42-43 | 34.5-35.5 | 44.5-45.5 |
Size Measurements (Centimeters)
| | | | | |
| --- | --- | --- | --- | --- |
| | Size | Bust | Waist | Hips |
| X-Small | 0 | 81.28-83.82 | 62.23-64.77 | 87.63-90.17 |
| Small | 2-4 | 86.36-88.9 | 67.31-69.85 | 92.71-95.25 |
| Medium | 6-8 | 91.44-93.98 | 72.39-74.93 | 97.79-100.33 |
| Large | 10-12 | 96.52-99.06 | 77.47-80.01 | 102.87-105.41 |
| X-Large | 14 | 101.6-104.14 | 82.55-85.09 | 10.95-110.49 |
| XX-Large | 16 | 106.68-109.22 | 87.63-90.17 | 113.03-115.57 |
Size Measurements (Inches)
| | | | |
| --- | --- | --- | --- |
| | Denim | Apparel | Waist |
| X-Small | 24-25 | 0 | 24.5-25.5 |
| Small | 26-27 | 2-4 | 26.5-27.5 |
| Medium | 28-29 | 6-8 | 28.5-29.5 |
| Large | 30-31 | 10-12 | 30.5-31.5 |
| X-Large | 32 | 14 | 32.5-33.5 |
| XX-Large | 34 | 16 | 34.5-35.5 |
Size Measurements (Centimeters)
| | | | |
| --- | --- | --- | --- |
| | Denim | Apparel | Waist |
| X-Small | 60.96-63.5 | 0 | 62.23-64.77 |
| Small | 66.04-68.58 | 2-4 | 67.31-69.85 |
| Medium | 71.12-73.66 | 6-8 | 72.39-74.93 |
| Large | 76.2-78.74 | 10-12 | 77.47-80.01 |
| X-Large | 81.28 | 14 | 82.55-85.09 |
| XX-Large | 86.36 | 16 | 87.63-90.17 |
| | | |
| --- | --- | --- |
| | US | European |
| Small | 5 | 36 |
| Small | 6 | 37 |
| Medium | 7 | 38 |
| Large | 8 | 39 |
| Large | 9 | 40 |
| | 10 | 41 |